Third Gender Equality Report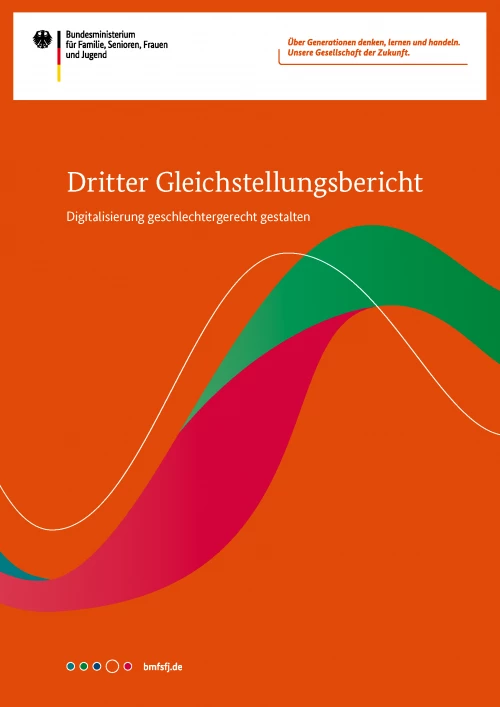 The Cabinet adopted the Third Gender Equality Report of the German Federal Government on 9 June 2021. The Report consists of the Expert Opinion by the Expert Commission, the statement of the Federal Government, and a review of the Second Gender Equality Report. The Bundestag will debate the Report in the coming legislative period.
Further information is available on our german website.
To download the Third Gender Equality Report (in German) visit the homepage of the Federal Minister for Family Affairs, Senior Citizens, Women and Youth.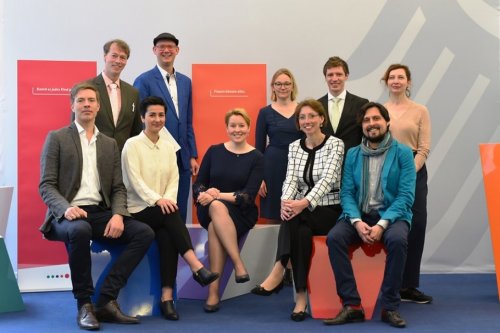 Gruppenfoto: Franziska Giffey mit der Sachverständigenkommission für den Dritten Gleichstellungsbericht
The independent Expert Commission for the Third Gender Equality Report commenced its work on April 5th, 2019 and is chaired by Dr. Aysel Yollu-Tok, professor for economics at the Berlin School of Economics and Law. The Third Gender Equality Report will focus on gender equality in the digital economy. For instance, the Expert Commission will take a closer look at areas of tension between digitalization and society such as employment in the digital economy or platform economy. Due to the interdisciplinary focus of this Gender Equality Report, the eleven experts represent a variety of different academic fields such as business engineering and management, computer science, economics, education, law as well as social sciences. The report is set to be released by the end of 2020.
The German Federal Government's First Gender Equality Report was published in 2011, analysing equality policy from a course-of-life perspective. The Second Gender Equality Report was published in 2017 and expanded on this analysis. It discusses "New ways of restructuring paid work and (unpaid) care work" and it paid particular attention to structures that can influence decisions at transition points in life, such as the tax system or the education system.
The Expert Commission is supported by the Agency for the Third Gender Equality Report at the Institute for Social Work and Social Education e.V. based in Frankfurt/M. and Berlin.